Spicy Poached Dumplings
INGREDIENTS
| | |
| --- | --- |
| Dressing: | |
| 20g | lao gan ma chilli flakes in oil |
| 40ml | sesame oil |
| 5g | chopped garlic |
| 5g | sugar |
| 50ml | soya sauce |
| 30ml | chinese black vinegar |
| 20ml | chili oil |
| Dumplings: | |
| 24pcs | KARANA™ Gyoza |
| 5g | chillies, seeded and finely sliced, soak in ice water |
| 10g | spring onions, finely sliced, soak in ice water |
| 5g | toasted sesame seeds |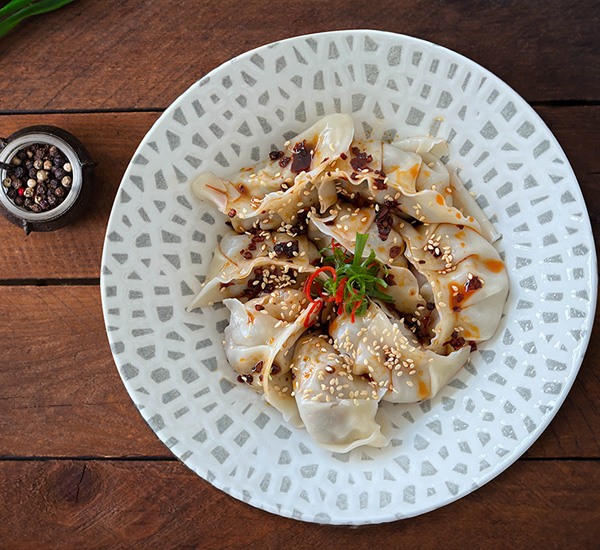 Preparation Method
1.
In a mixing bowl, combine all ingredients for dressing together. Mix well and set aside.
2.
Bring a large pot of water to boil and cook dumplings in simmering water for 5-6minutes. Drain and transfer to serving dishes.
3.
Drizzle the prepared dressing over the dumplings. Garnish with sliced chilies and spring onions. Sprinkle on sesame seeds and serve.