DRIED TOSSED NOODLES
INGREDIENTS
| | |
| --- | --- |
| Dressing: | |
| 40g | lao gan ma chilli flakes in oil |
| 80ml | sesame oil |
| 10g | chopped garlic |
| 12g | sugar |
| 100ml | soya sauce |
| 60ml | chinese black vinegar |
| 40ml | chili oil |
| Dumplings: | |
| 12pcs | KARANA™ Gyoza |
| 200g | chinese dry wheat noodles (Yang Chun Mian) |
| 4pcs | cora leaf lettuce, washed and drained |
| 10g | chillies, seeded and finely sliced, soak in ice water |
| 20g | spring onions, finely sliced, soak in ice water |
| 10g | toasted sesame seeds |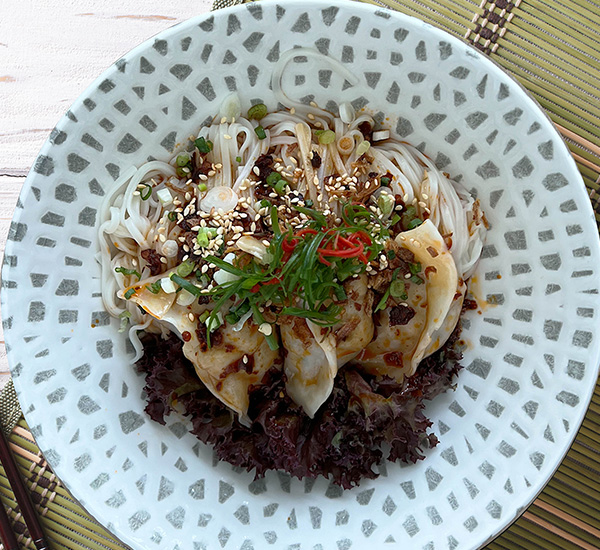 Preparation Method
1.
In a mixing bowl, combine all ingredients for dressing together. Mix well and set aside.
2.
Bring a large pot of water to boil and cook dumplings in simmering water for 5-6minutes. Drain, add the noodles and cook for 4minutes. Drain and transfer to serving dishes. Add coral lettuce to each bowl and divide out the dumplings.
3.
Drizzle the prepared dressing over the noodles and dumplings. Garnish with sliced chilies and spring onions. Sprinkle on sesame seeds and serve.