BUN CHA BOWL RECIPE
INGREDIENTS
| | |
| --- | --- |
| MEATBALLS | |
| 340g | KARANA™ Minced jackfruit meat |
| 28g | lemongrass, chopped |
| 14g | garlic, MINCED |
| 28g | coriander, finely chopped |
| 14g | sugar |
| 5g | salt |
| | pinch white pepper 70oc. |
| VEGAN NOUC CHAM | |
| 440g | vegetable broth |
| 55g | sugar |
| 5g | soy sauce |
| 5g | mushroom seasoning powder |
| 5g | bird's eye chilli |
| | lime juice of two limes |
| TO SERVE | |
| | vermicelli noodles |
| | lettuce |
| | cucumber, ribboned |
| | carrot, ribboned |
| | coriander |
| | perrilla |
| | mint |
| | |
| --- | --- |
| MEATBALLS | |
| 12oz | KARANA™ Ground jackfruit meat |
| 2tbsp | lemongrass, chopped |
| 1tbsp | garlic, Ground |
| 2tbsp | coriander, finely chopped |
| 1tbsp | sugar |
| 1tbsp | salt |
| | pinch white pepper 70oc. |
| VEGAN NOUC CHAM | |
| 2cup | vegetable broth |
| 4tbsp | sugar |
| 1tbsp | soy sauce |
| 1tbsp | mushroom seasoning powder |
| 1tbsp | bird's eye chilli |
| | Lime Juice of two Limes |
| TO SERVE | |
| | vermicelli Noodles |
| | lettuce |
| | cucumber, ribboned |
| | carrot, ribboned |
| | coriander |
| | perrilla |
| | mint |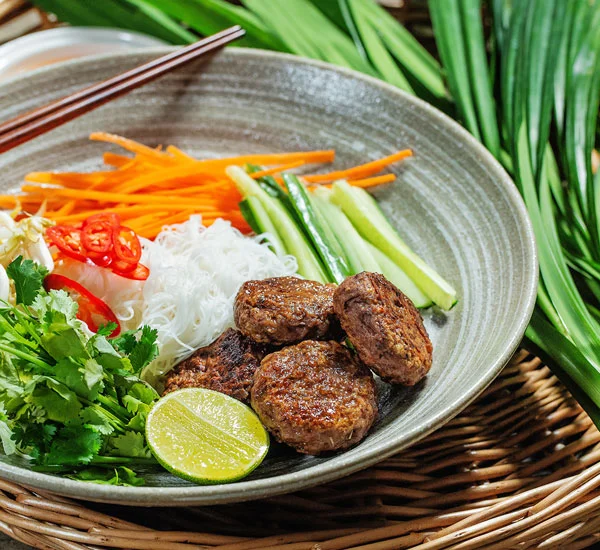 Preparation Method
1.
Combine all meatball ingredients in a bowl and refrigerate for 1 hour
2.
Meanwhile prepare nouc cham and garnishes.
3.
After an hour, form meatballs into 1 inch ball.
4.
Heat a large skillet on medium-high heat.
5.
Brown meatballs well, cover, lower heat and cook through for 3 minutes. Cook to internal temperature of 158F.
6.
Reduce broth with sugar to ½ cup. Add mushroom powder, chili and soy, and cool.
7.
Add lime juice and adjust seasoning to taste. Broth can be made a day ahead and will last refrigerated for 1 week.
8.
Prep lettuces, herbs, and noodles. Toss, place into four large bowls and top with warm meatballs.
9.
Serve nouc cham, sliced chillis and extra limes on the side.